About VECTRON™ T500
Innovation in
Resistance Management
VECTRON™ T500 is an innovative insecticide developed for Indoor Residual Spraying (IRS)
to support insecticide resistance management (IRM) strategies.
01

Novel Mode of Action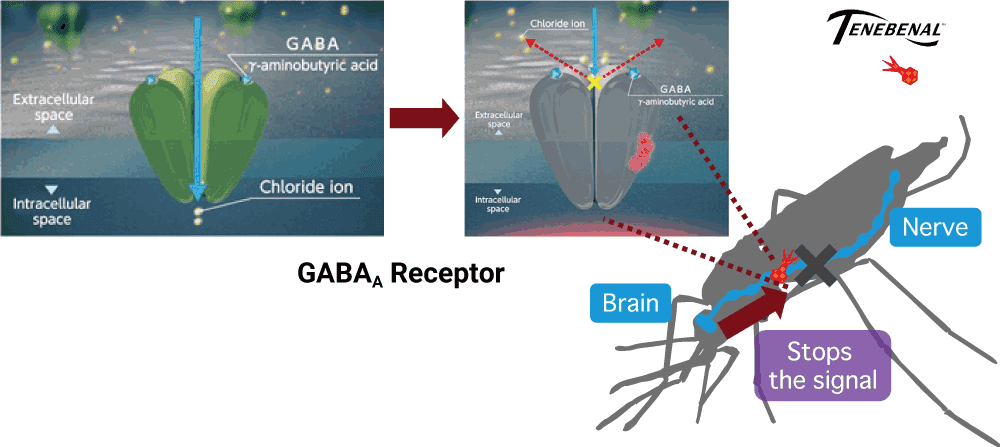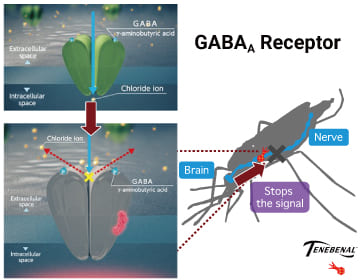 VECTRON™ T500's active ingredient,
TENEBENAL™ affect a newly discovered target site.
Ideal for insecticide resistance management.
***************************************
TENEBENAL™ is a meta-diamide insecticide acts as an antagonist against insect GABA receptors resulting in a block of inhibitory neurotransmission, convulsions, and death of target insects. TENEBENAL™ binds to a newly-discovered inter-subunit allosteric site on the GABA receptor which is remote from that of conventional GABA receptor antagonists (e.g dieldrin, fipronil, ). Mutations in the GABA-gated chloride channel pore that confer resistance to conventional GABA-gated chloride channel antagonists have no effect on the insecticidal activity of TENEBENAL™, making this insecticide useful for the resistance management. Due to its unique site of action, the Insecticide Resistance Action Committee has assigned it to a new classification (Group 30: GABA-gated chloride channel allosteric modulators).
02

Long residual activity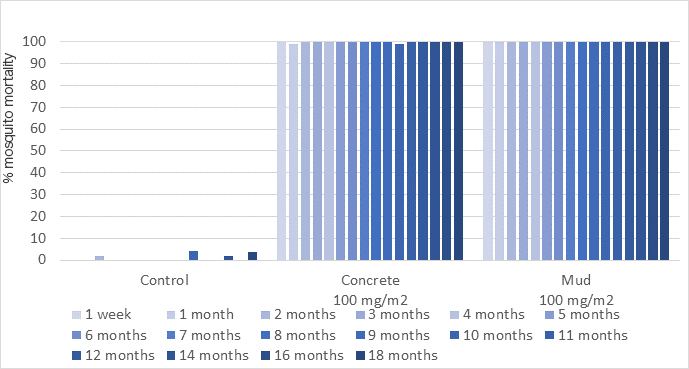 Since TENEBENAL™ has a low vapor pressure and is stable on the spray wall for a long time, VECTRON™ T500 shows a long residual effect. Once it falls from the wall into the soil, TENEBENAL™ binds with soil particles and, hence, does not move through the soil layers and tends to be adsorbed to the top layer of the soil and degraded by micro-organisms.
Study Type
GLP Experimental Hut Trial
Location
Covè, Benin
Trial Year
2019-2021
Species

An. gambiae

s.s. KISUMU
Substrate
Concrete, Mud
Trial Institute (+ Researcher)
CREC/LSHTM(Centre de Recherche Entomologique de Cotonou/ The London School of Hygiene & Tropical Medicine)
Study Condition/Method
72-hour mosquito mortality tested in 30 min WHO cone bioassays in experimental huts
Study Status
Finished
Observation
Experimental Hut Trial has been conducted in Benin to evaluate VECTRON™ T500 residual efficacy applied on both concrete and mud hut against pyrethroid susceptible

Anopheles gambiae

s.s. and resistant

An. gambiae

s.l. It provided residual efficacy (>80%) through 18 months on concrete and mud substrates.
Explanation of Species
Susceptible
03

Effective against resistant mosquito

Due to its unique MOA, TENEBENAL™ has yet to confirm cross-resistance to existing insecticides. It therefore has a key role to play as a rotational tool as part of a proactive insecticide resistance management strategy.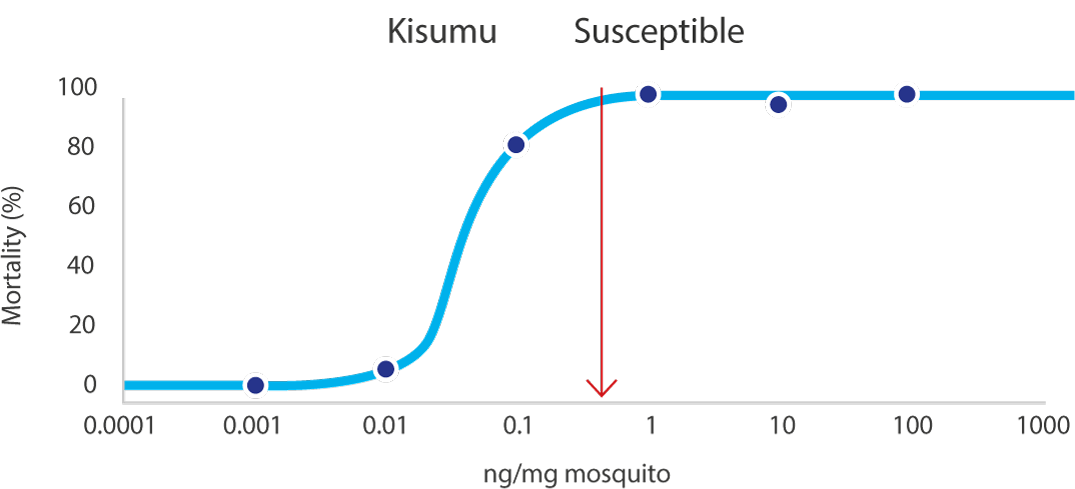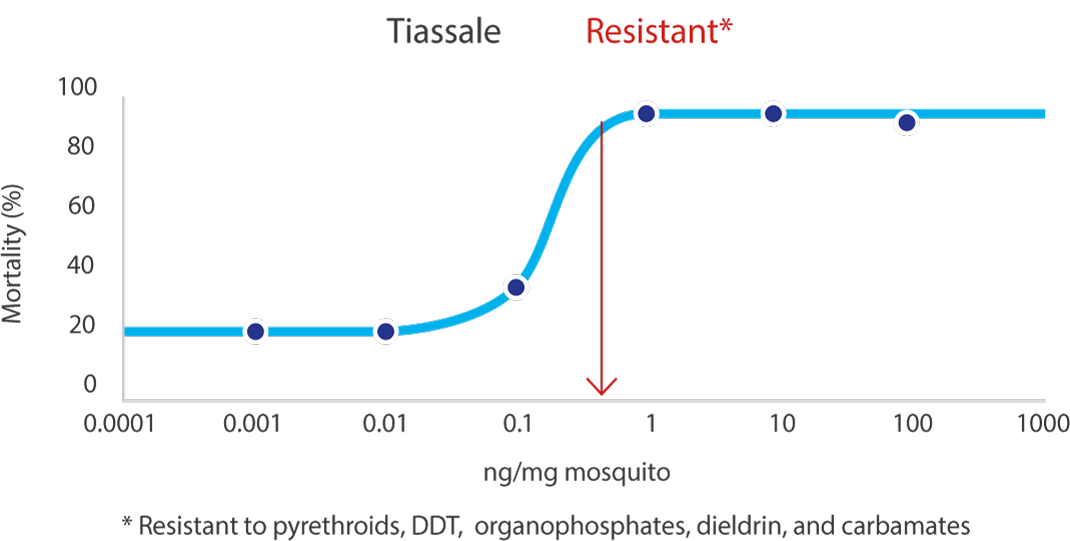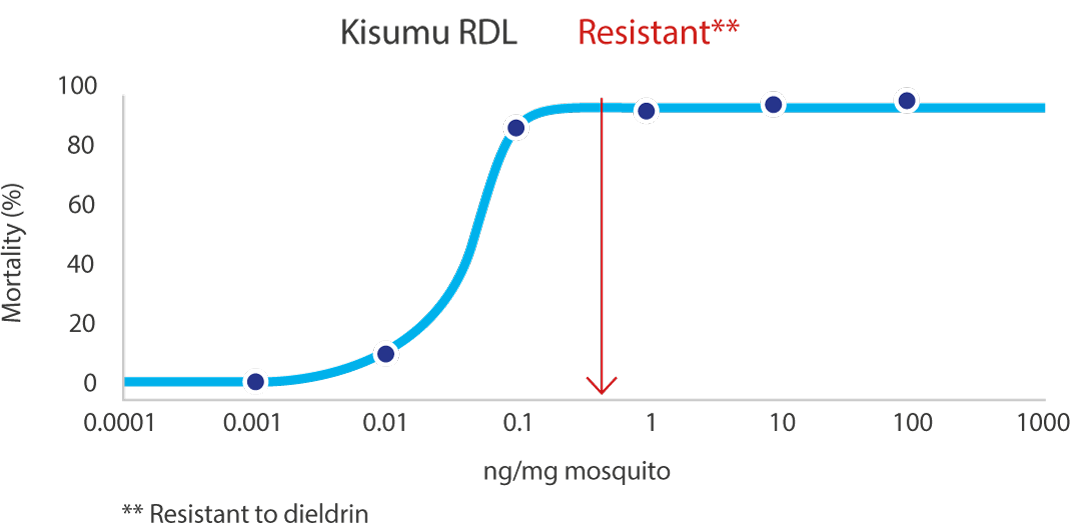 04

Applicable to all wall types

VECTRON™ T500 has confirmed long residual efficacy when sprayed on various walls surfaces.

In laboratory trials and experimental hut studies in some countries, the application of VECTRON™ T500 at 100 mg a.i./m² demonstrated good residual efficacy for six months or more against pyrethroid-susceptible and resistant mosquito strains on mud and other wall surfaces.

Various surfaces, insecticide susceptible KISUMU strain of Anopheles gambiae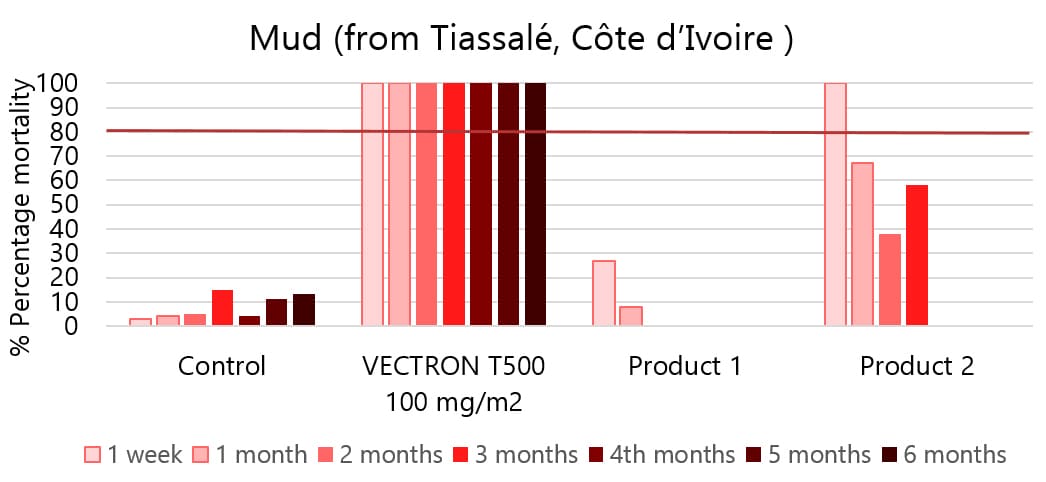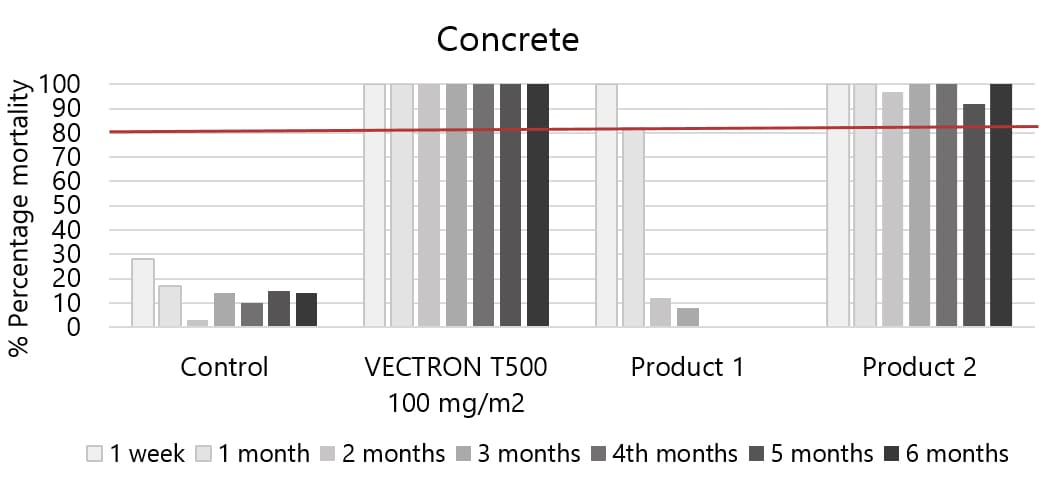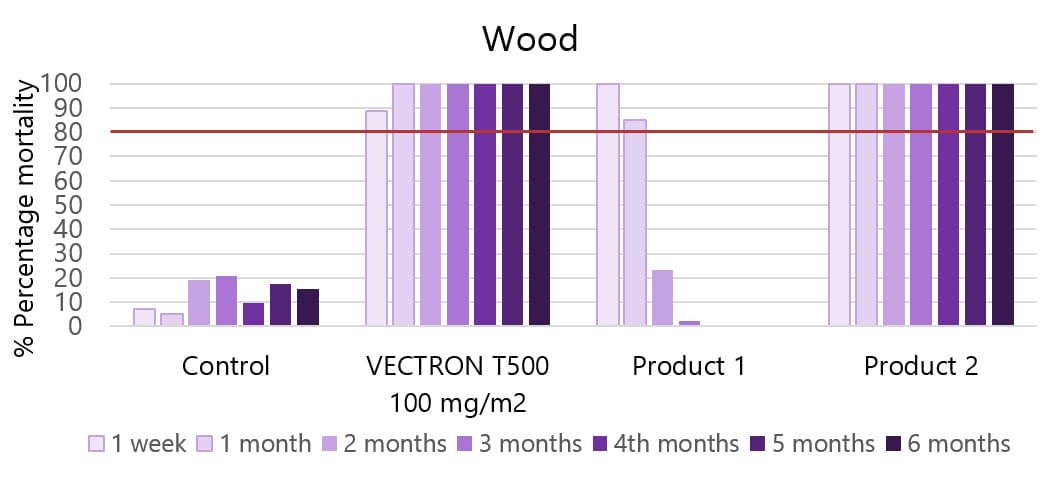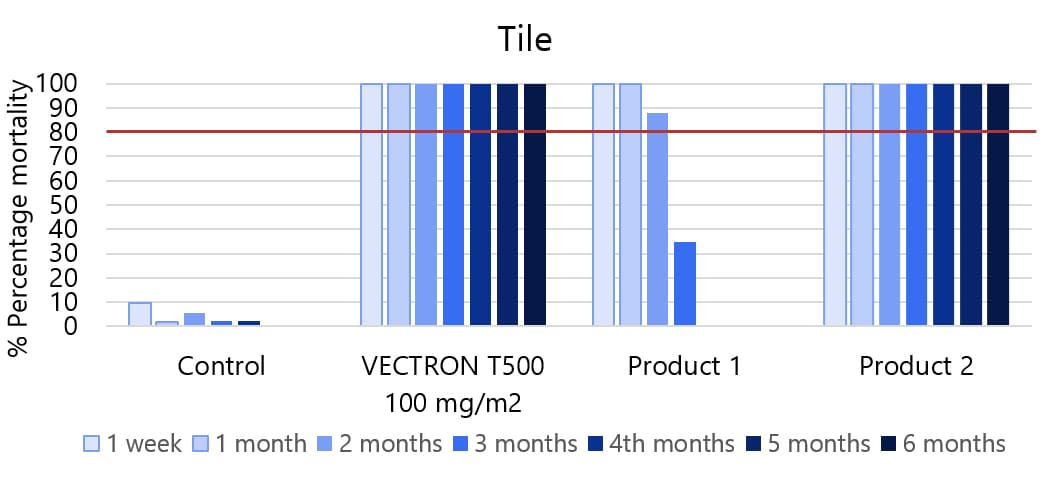 Long residual activity on various surfaces in a Liverpool School of Tropical Medicine (LSTM) laboratory trial
The red line (80% mortality) is the WHO guidelines (2006) criterion for the number of months of residual efficacy
05

User friendly

VECTRON™ T500 is user friendly, for residents and spray operators, as follows;

Convenient to transport due to the low weight per sachet (50g) with 100 sachets per carton. Easy to handle and add to spray tank.

Disperses readily and uniformly in water to allows even suspensibility.

It does not leave stains on commonly treated wall surfaces.

Odourless/Stainless formulation–important for community acceptance
06

Low toxicity
Mammalian toxicity

Acute toxicity
(LD50 oral/rat)
>2,000mg/kg
Acute toxicity
(LD50 Dermal/rat)
>2,000mg/kg

Risk assessment has been determined to be acceptable for professional spray operators and residents even for children and toddlers.

Does not have any acute toxic effects oral or dermal.

Skin sensitization

| | |
| --- | --- |
| Guinea pig | Not a skin sensitizer |
| MouseLLNA | Not a skin sensitizer |

Does not cause skin sensitization.

Safe to be used within household and has no adverse dermal reactions.

Genotoxicity

(TENEBENAL™)

| | |
| --- | --- |
| Ames test (-/+S9) | Negative |
| Chromosomal aberration | Negative |

Does not cause any cell damage or malignancies.